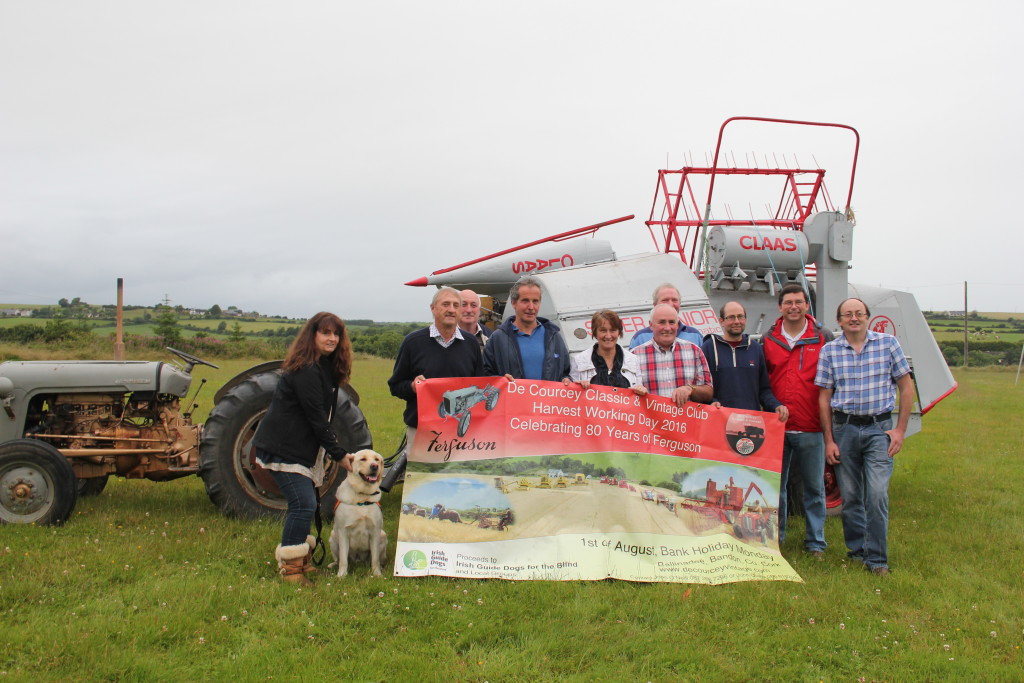 On Monday the 1st Aug 2016 the 6th Annual De Courcey Harvest working day takes place in Ballinadee, Bandon, Co Cork. This year the theme is "80 years of the Ferguson tractor" and will be officially opened by Mr Andrew Pollock editor of the Irish Vintage Scene magazine.
2016 may be the 100th anniversary of the Rising but it is also the 80th anniversary of the start of production of the Ferguson tractor line, with the Ferguson Brown being manufactured in 1936. One of these rare tractors will be on display in Ballinadee at the event curtesy of Mick Forde of "The Farm" Grenagh, Co Cork, see www.visitthefarm.ie . We will have a large number of Ferguson tractors and Ferguson system implements on show and being demonstrated by their owners in our special Ferguson tilling area.
A highlight of the event will be a presentation by Pat O'Donovan on Ferguson and the Ferguson system.
Star attractions of the Harvest Working Day will of course be the growing numbers of vintage combines from all over the country that attend this event each year. Mick Forde has promised to bring a Massey Harris 726 combine which he states is probably the oldest self-propelled combine in Ireland.
A highlight of the event will be the annual raffle. Top prize will be a trip to London with Barters travel of Bandon.
The De Courcey Harvest Day began in 2011 as an idea to put on a working demonstration using several restored vintage combine harvesters from the locality. The event was very successful and the following year increased in size with both participant and visitor numbers doubling.
Both 2013 and 2014 saw a radical change as sponsorship from first Claas and then New Holland allowed the De Courcey Vintage Club to organise an event of national significance on a thirty five acre site. These shows attracted several thousand visitors to Barrell's Cross Kinsale. Both these events received much positive coverage in overseas publications as well as in Ireland.
The harvest working day now features working areas with continuous activity. Harvesters, reaper and binders and every sort of machinery associated with the harvest past and present can be seen working throughout the day.
Tilling is also represented with a ploughed field filled with vintage machinery turning the soil and planting crops.
Many horse operated machines will be operating on the day. Horses will be ploughing, harrowing, cutting corn, threshing and drawing cartloads of sheaves.
Also on site will be a picnic area surrounded by food outlets showcasing some of our unique West Cork products. Last year's participants included Clonakilty black puddings, Barracuda BBQ and Clona Dairies.
Of course the event will also have a large static display of vintage commercial vehicles, cars and tractors. This section continues to grow each year.
Continuing with our commitment to supporting local causes, this year funds raised will once again go to several local groups in De Courcey's parish but our main beneficiary will be the 'Irish guide dogs for the blind '. The guide dogs will be attending to meet the public on the day.
The other groups are as follows; Ballinadee Development Assoc. The local Foroige group and Courcey Rovers Ladies football and Camogie Club, .
Bill Chambers P.R.O. De Courcey classic and Vintage club.
Contact
Chairman: John O Neill 087 266 7296
Secretary: John Quinn 086 8162529